Frequently Asked Questions About Neck Pain
If you suffer from acute or chronic neck pain, you may find your condition as frustrating as it is painful. Pain medication and surgery are not the only treatment options to help with your neck pain. At Dixie Injury & Rehab in Louisville, we have the natural and effective neck pain relief options you deserve. We have gathered some of the frequently asked questions that we encounter regarding neck pain and its treatment at our clinic.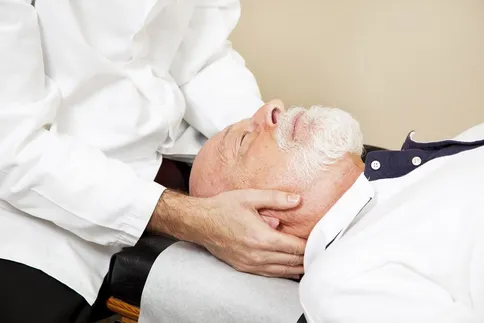 What Kinds of Injuries Can Cause Neck Pain?
Your neck includes a complex assembly of vertebrae, muscles, nerves, and connective tissues. A jarring impact on your neck can push your spinal components out of place and tear soft tissue, causing severe neck stiffness and pain. More subtle chronic neck pain may develop over a long period due to bulging or herniated discs, arthritis, or overuse that causes inflammation.
How Does Whiplash Affect the Neck?
Whiplash is an excellent example of an acute neck injury. When your head and neck move in one direction and suddenly in another due to an auto accident or another forceful event, the strain can throw your neck vertebrae out of alignment or damage your soft tissues.
What Is Text Neck?
Text neck is a type of overuse injury. In this syndrome, people who constantly let their heads droop forward usually when using their smartphones or computer monitors. The improper position of the head causes a strain in the muscles and connective tissues of the neck.
How Do Chronic Alignment Problems Lead to Neck Pain?
You don't have to injure or overuse your neck to develop neck pain. Over time, your cervical spine may shift in alignment due to changes in your discs and joints. Your head may also sit slightly off-balance on top of your spine. In either case, these imbalances can lead to ongoing strain and discomfort in your neck muscles as they try to compensate.
What Kinds of Natural Neck Pain Treatment Do You Offer?
Chiropractic care provides non-surgical, non-pharmaceutical neck pain relief. Dr. Langschied makes small but significant changes in your cervical spinal alignment. These changes position your neck and head back into symmetry, easing muscular strain and nerve compression while allowing your neck joints to move more freely. We may also administer physical therapy and other natural forms of neck pain treatment.
Neck Pain Relief in Louisville, KY
Is neck pain preventing you from enjoying your life? Are you ready for a change without having to rely on pain medication or invasive procedures like surgery? Call Dixie Injury & Rehab in Louisville today at (502)-447-9554 to schedule a consultation with our chiropractor.